---
Lesson 2: Balance Sheet
In our 2nd article of providing advice for businesses looking for investment, we focus on the balance sheet (also known as the Statement of Financial Position) and what you would need to include in your presentation to potential investors.
The balance sheet summarises your company's assets, liabilities and shareholders' equity at a specific point in time. In your presentation, you'll want to present the balance sheet with past yearly results and future forecasts summarised on one slide, and then monthly future forecasts on a separate slide. This will provide the information the investors will need to gain an idea as to what the company owns and owes, as well as the amount invested by shareholders.
Assets
Assets are listed from top to bottom in order of their liquidity– that is the ease with which they can be converted into cash. They are divided into current assets, those which can be converted to cash in one year or less, and non-current or long-terms assets, which cannot.
Long-term assets include the following:
Long term investments; securities that will not or cannot be liquidated in the next year.
Fixed Assets; these include land, machinery, equipment, buildings.
Intangible assets; these include assets such as intellectual property, goodwill, software (under IFRS and FRS102)
Current assets include:
Cash and cash equivalents
Marketable securities
Accounts receivable
Inventory
Prepayments
Liabilities
Liabilities are the money the company owes to creditors such as suppliers, employees, landlords, banks, the government etc.
Current liabilities include the following:
Current portion of long term; ie the amount due within 1 year
Bank indebtedness (overdraft)
Interest payable
Trade Creditors
Rent, tax, utilities
Wages payable
Dividends payable and others
Long-term liabilities can include:
Long-term debt
Pension fund liability
Deferred tax liability
Shareholders' Equity
Shareholders' equity is the money attributable to business owners. It is also known as net assets since it is the equivalent to the total assets of a company minus its liabilities – that is the debt it owes to non-shareholders.
Retained earnings are the net earnings a company can either reinvest into the business or use to pay off debt or distribute to shareholders in the form of dividends.
Investors will be very interested in working capital (also known as net current assets) and will look for trends from past results and the future forecasts.
Working capital = current assets – current liabilities.
Working capital is a good indicator of the financial stability of the company as it shows the company's ability to pay off its short-term debts. It also indicates the level of funding required and whether the business can support itself or whether external funding in the form of bank loans or shareholder investment is required.
Here is an example of how you might present a yearly balance sheet: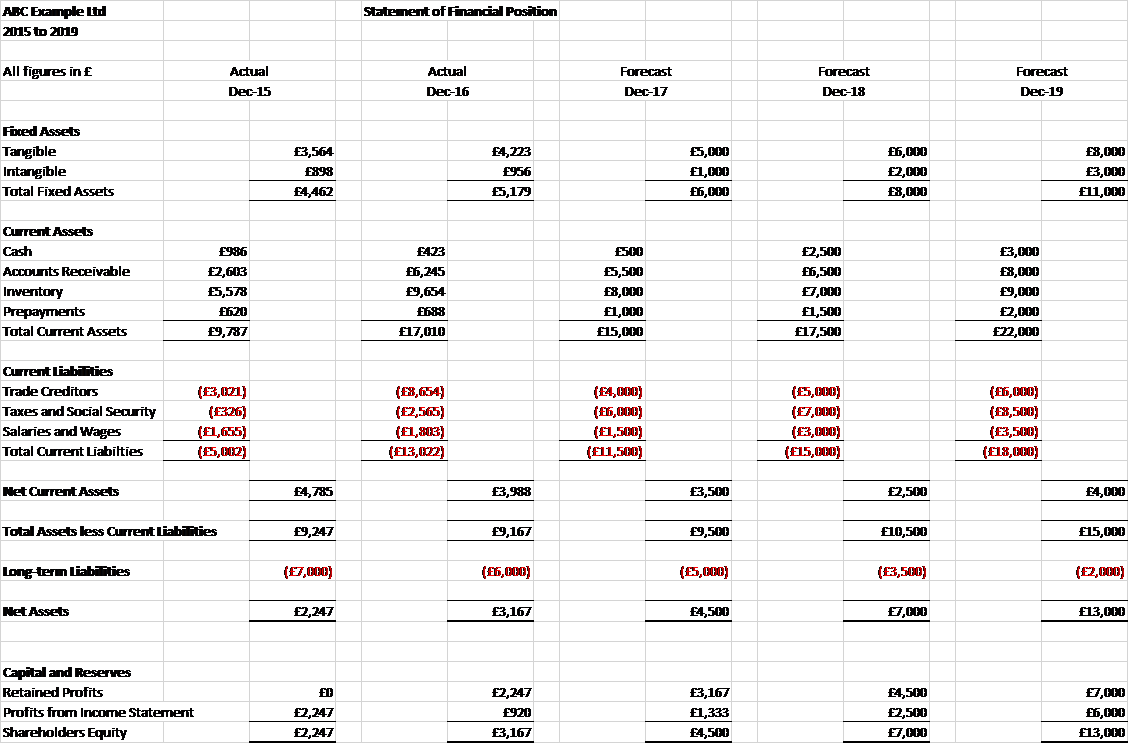 Next time we'll be looking at the Cash Flow Statement (also known as the Statement of Changes in Equity)
You can read the first lesson on income statements here.
Investor Deck Series- Balance Sheet