---
Lesson 3: Cash Flow Statement
During this mini-series, we are looking at what financial information you should include in a presentation when looking for investment in your business. We have already looked at the income statement and balance sheet and in this article, we shift our focus to the Cash Flow Statement.
The cash flow statement shows the liquidity and solvency of a business, which is essentially a company's ability to pay its bills. It shows the inflows and outflows of cash and cash equivalents and it excludes transactions that do not directly affect cash receipts and payments. These non-cash transactions include depreciation, amortisation and bad debt write-offs to name a few.
In your presentation you will want to show prior year on year actual totals and the investors will probably want to see future forecasts broken down month by month to see if there are any times when cash is particularly tight or when working capital commitments have a significant impact on cash.
The cash flow statement is usually split into three types of activities; operating, investing and financing activities.
Operating activities include the operating profit of a business with the non-cash items added back such as depreciation, amortisation and deferred tax. It also includes the balance sheet movements on current assets like stock and trade debtors, with the movements being calculated by taking the opening balance and deducting the closing balance. So, for example, an increase in stock will show as a net cash outflow in the cash flow. It's the same but in reverse for current liabilities so if Trade Creditors go up then it would show as a cash inflow because it is essentially extra funding for the business.
Investing activities are the purchase or sale of fixed assets such as land, buildings, equipment and fixtures and fittings. Payments related to mergers and acquisitions are also included in this section.
Financing activities include inflows and outflows of cash from investors such as banks and shareholders for items such as loans, interest, shares and dividends.
Here's an example of the standard layout for a cash flow statement;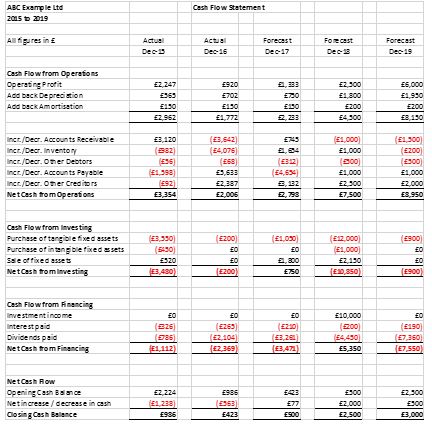 Next time we will be focussing on how you will demonstrate to the prospective investors how their investment will be utilised within your business, what points about your company you should be making and what information is vital…
Investor Deck Series- Cash Flow Statement