---
Present anywhere in the world, without leaving your desk. Communication is one of the keys to success in any business, and it can also be one of the hardest aspects to maintain, especially as your company grows and you are working with clients or colleagues who could literally be on the other side of the world.
Emails are often impersonal and big deals or decisions need to be made face to face ideally, without delay. Similarly, if you are sharing a presentation, you want to be there to pitch to your partners or clients so that their questions can be answered and no bits of information are left for misinterpretation. That's where remote meetings have come to the forefront in recent years and Presbee is one of the leaders in this software.
In the past, dodgy internet connections and unsophisticated software could make remote meetings frustrating and ultimately a waste of time and effort if both sides couldn't communicate properly – tearing apart business relationships rather than building them.
We have already written about why we think you need a new approach to presentations, and the top online presentation tools on the market right now, and one of the things that make Presbee so special is that you can also set up remote meetings through which you can share your presentation.
As Presbee is an online presentation tool, it features a unique browser to browser technology that allows you to share your Presbee presentation and screen content online.
The special part is that you can set up one or two-way audio communication with your remote participants – therefore questions and comments are made in real time so you can respond. This is also perfect if your presentation is non-linear as Presbee allows, as you could move to the slide with the perfect answer or explanation to answer their questions.
To set up a remote meeting you just need the email addresses of the participants, to which a meeting invitation will be sent detailing the time and date of the meeting. They then can follow a link to enter the meeting room and see your screen with your live audio.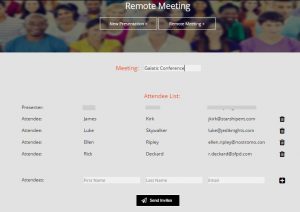 The benefits of this are numerous, as details can be emphasised and questions answered and next to meeting face-to-face this is the best way to conduct meetings and business. As well as this, you can also get a feel for how your clients or colleagues are feeling about your presentations and proposals, which is nearly impossible via other means of communication like email.
Presbee also allows you to share your presentation and meeting with even more participants if you need. You have the ability to choose a public webinar format for an open presentation, which would work well if you needed to transmit the presentation and your meeting throughout a large organisation, or in something like an academic setting for example.
So there you go, with Presbee, setting up a remote meeting couldn't be easier, and working through one piece of online software that you can access anywhere in the world is the ultimate package.
Have you struggled with remote meeting software previously? Do you think remote meetings would solve a lot of your communication problems?
You can read more about the features and benefits of Presbee here.
How to Set Up a Remote Meeting with Presbee