---
Working from home can seem like the perfect job to so many. No commute, no morning rush, you could even work in your pyjamas if you wanted! But the reality is that it can become very lonely. You don't have anyone to have office banter with, you don't have the support network from your team and if you are your own boss you don't have that vital person above you saying well done or thank you at the end of the day. Your performance is solely down to you and in order to remain driven, ambitious and positive I think it is imperative that you find the right connections in both people who are in your in situation or line or work and in clients.
So where do you start?
Your best port of call is to master social media. There are so many platforms available to use for your business but have you ever thought about how these can help you 'meet' others?
Facebook and Linkedin are probably the best platforms for you to make connections with those who also run their own business from home. Use Facebook to find relevant groups to you and your company and utilise the way in which they run to help build on your business and to make contacts that you may not have had the opportunity to make in person. Most groups will have a structure in the way they are run, for example:
Monday Motivation- a day to post what you are planning on achieving that week and to see what others have planned. This will help you to stay on track and not lose motivation.
Promotional Tuesday- A day to shout about your business or promotions you have running. Others in the group may share your posts and they may even be interested themselves.
With Me Wednesday- a day to share a post that you would like some interaction on in order to increase your reach.
Follow up Thursday- How has your plan from Monday gone so far? Have you achieved what you wanted?
Follow me Friday- a day to share your social media sites and gain some new followers.
There will also be a chance to post any queries, gain advice and of course, offer any back to those who need it. Most groups will also run a monthly networking event where you can meet the members of the group at a local venue and showcase your business. This is a great chance to take business cards, leaflets and products and get your name out there. I would also take this opportunity to make friends because friends in business will always have your back, will support you and will sing your praises because they completely understand how difficult working from home can be.
I would also recommend branching out to groups that take a variety of business people from all over the country or even overseas. This will allow your name to go that little bit further and the more you engage on the page, the more recognised you will become.
Linkedin has always been known solely for its job hunting benefits but recently it has been moving in a similar direction as Facebook by introducing a newsfeed and adding 'connections' instead of friends. Here you can post statuses, share blogs and information from your website. The more connections you make the more your newsfeed will begin to fill where you can like and comment on what others are sharing just like you can on Facebook. You can private message these contacts to say hello, tell them about yourself and business and any promotions.
For all other sites (Twitter, Pinterest, YouTube, Instagram) my advice is to react to all comments and respond as quickly as you can. By keeping up with those who are taking the time to connect you will be showing that you are always on hand and are also very approachable. Those who comment will mention to friends how your services have been or that you always respond and it will also show up in others newsfeeds. Your loyal followers can become incredibly beneficial to you. Plus remember, one bad experience can spread like wildfire, let the positives out shine the negatives.
What else is available to you?
So many people underestimate the power of writing a regular blog but this is a brilliant gateway to get traffic to your website and your social media sites. Not only are you showing that you are an expert in your field, you can write your posts in your own voice to make the reader feel as though they know you, keywords will help with your SEO which leads to your site being found more easily and you can share them on every social media platform which will lead to interaction from clients/customers. Need more convincing? Check out this image of the lifeline of your posts…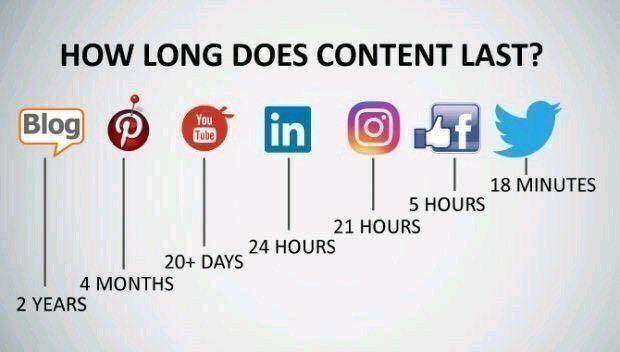 Reading others' blogs is also a brilliant way to connect with those in the same field. You can leave comments on a blog post and link your website up to show who you are. This may lead to more clicks from others also reading the article or may open a line of dialogue between you and a fellow business person. Blogs are also a fantastic way to learn so much more about business, what others are doing in order to be successful, social media tips, blogging tips, SEO tips and so much more.
Online presentations can work in a very similar way to a blog in the way that they can be shared across social media, they can be accessed on the presentation site or uploaded to your website. Videos are proving to have more impact these days and a well-produced presentation can work wonders in reaching your clients, in impressing your followers and getting the word out about what you can do and offer. Use a presentation to showcase your key points, your vital data, facts about you and the company and your promotions. With Presbee, you have the choice of a range of templates, online images and the options to add animation and transitions to make your presentation stand out from the crowd.
By getting your name and your company's name out there into the virtual world you will be opening up new lines of contacts and important connections that will make working from home so much more enjoyable and achievable.
How To Make Connections When You Work From Home