---
Launching a new product is a huge deal and getting the word out and having people on board can be one of your biggest hurdles. So, what is the best way to go about this? (And no, it's not by getting on Dragon's Den!) It is by creating a stand-out presentation which can be used to deliver all of your key information and will show your product in all its glory. If you need to gain investment, want to pitch to retailers, need to gain a perspective from your proposed market, then a presentation can deliver all of this to everybody.
Here's what we think you need to think about and include:
Slide 1: About
Before you go into the ins and outs of your product you need to ensure that your audience gets to know you– the person behind it. This may not be a must-have for your slide deck but I would personally include it because a personal touch can seal a deal. You don't need a lot of details and we certainly don't need a life story but a little about what you are going to show them today, why you created/invented/invested in this product, what it means to you, what it can do for those who are in the market to buy.
Presentation Tools- Transitions, images, text boxes.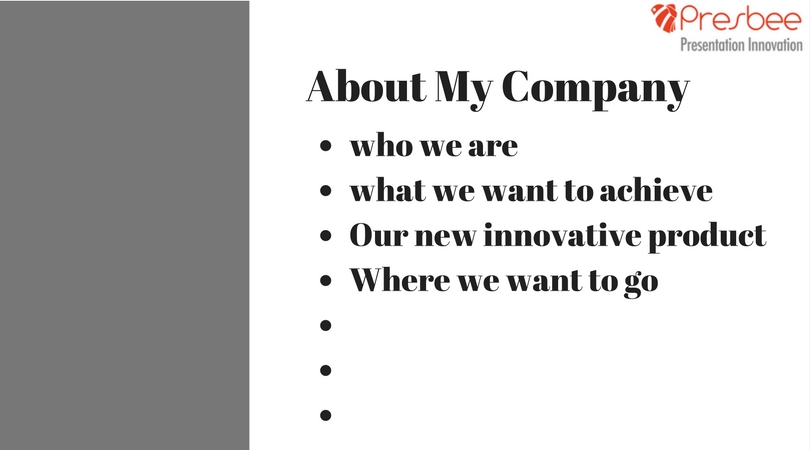 Slide 2: Product Overview
This is where you can describe your product, what it does, who it is for etc. You want to add every detail here that will sell your item to your listeners. Positive, beneficial pointers alongside photos will make your slide stand out.
Presentation Tools- Bullet points, transitions, text boxes and don't forget your stunning, professional images.
Slide 3/4: Features and Benefits
Your features and benefits are a real selling point for any customer. What does your product have on it and how does this benefit the buyer? These are what drive the interests of those listening to your presentation and what will make them purchase from you. You need to be singing the praises of this amazing product and by doing this you will be showing that you have exceptional product knowledge. For example, just think about when you walk into a shop. Say you are in the market for buying a pair of waterproof walking shoes. The sales assistant comes over and you ask a question… they look at you blankly, they go off to ask a colleague, they also don't have the answers. The result? You probably leave and they lose out on a sale. If they had sold to you the fact that this boot was the leader in its market because it has a waterproof membrane stitched inside the lining which will keep your feet dry but at the same time allow the shoe to be breathable you would have been drawn in by their product knowledge. You may have been led to ask more questions and the more confident answers you received would most probably have sealed the deal for you. Both parties win. This is precisely why you have to be that expert sales assistant on the day.
Presentation Tools- Bullet points, transitions, diagrams such as spider graph, images, video.
Slide 5: Who is your customer?
Who is this product aimed at and why? Have you done your market research to back this decision up? Show this in your slide as this will prove that you have thoroughly thought about your product and where it will sit within the market.
Presentation Tools- Tables, graphs, text boxes, transitions.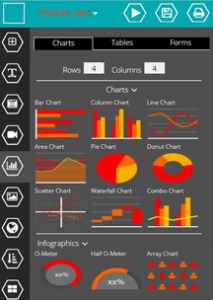 Slide 6: Product Packaging
Make your slide stand out with your stunning new product packaging. Let the listeners know why you have come up with this look/theme and again, show that you have market research evidence that this proved a popular choice.
Presentation Tools- Images, transitions, video, animation, graphs and tables.
Slide 7: Product Pricing
Your price needs to be justified and you need to reflect this in your financial reports for the company/product. If this is a new company you can provide forecasted finances. If this is already an established business you can provide details of previous revenue to show how you have performed in the past.
Presentation Tools- Charts, graphs, bullet points.
Slide 8: Distribution Channels
Where will your product be sold? How will it be delivered? Will you have an online shop? All of these factors need to be covered and costs considered.
Presentation Tools- Diagrams, lines, arrows, images, bullet points, animation.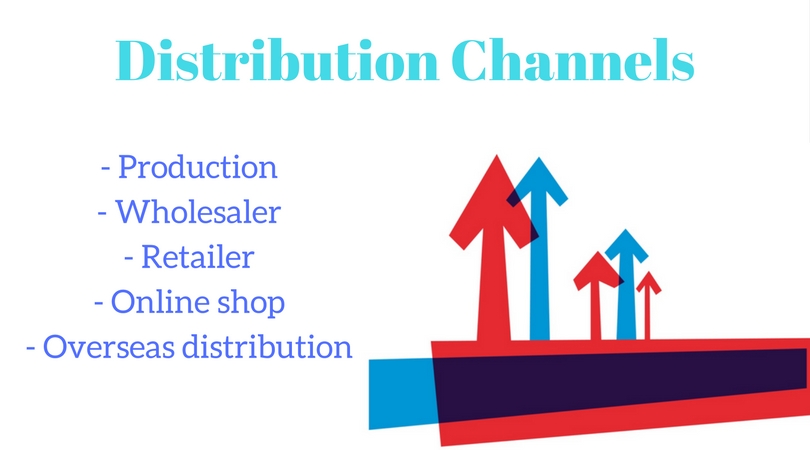 Slide 9: Advertising
Do you already have advertising and marketing ideas? It is hugely beneficial if you do as you can take these along with you on the day. Provide eye-catching materials that will make your listeners want to buy into your new product. Include these images within your slide or better yet, stream your video to it.
Presentation Tools- Images, video, transitions, music, animation.
Slide 10: The Launch
When do you propose your product will be launched? Will you have media coverage? Will you go big in the lead-up? How will you spread the word? There are so many areas to consider prior to this happening but you need to show that you have plans in place and that you are confident in going forward.
Presentation Tools- Images, video, transitions, music, animation.
Other Points to Remember:
Include your logo on each slide
Use your proposed product colours or company colours
Keep the colours calm and light, not brash ones
Keep your text detailed but to the point
Use professional images
Make each slide flow into the next
Allow time for pauses and questions within your speech
And be you.
We have plenty of other articles in Presbee's Learning Center to help with all of your presentation needs, such as 5 tips to make a good first impression, our Presbee presentation checklist, 5 focus areas for your sales presentation, the top ten presentation tips for nervous public speakers and so much more.
Product Launch Presentation Tips