---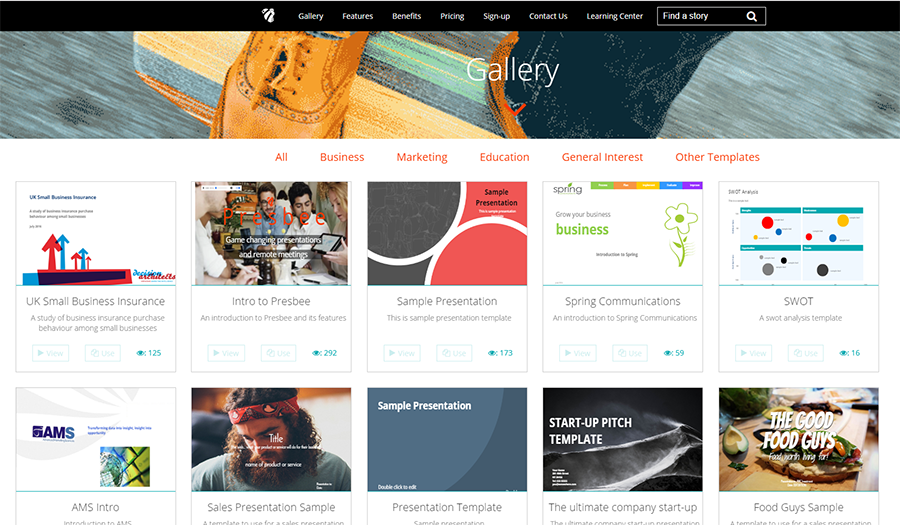 Not sure how to go about designing your next presentation with Presbee? Then look no further than the Gallery page.
As the name suggests, here you will find a huge variety of sample presentations for you to browse and click through. We highlighted previously the Start-Up Business template and its awesome features, but we thought it would be worth highlighting some of the other great templates and samples in the Gallery you can have a look through.
Here are our top picks to have a look through in the Presbee Gallery:
Sales Presentation Sample
We love this presentation template not just because of the slick and concise content and the tips it gives us, but also because it also highlights how you can use the transitions and animations available on Presbee to make a slick and professional presentation.
Sometimes creators may shy away from transitions and animations as we all have memories of cringe-worthy animations and transitions in old-school PowerPoint presentations. However, as you can see in the Sales Presentation Sample, the animations and moving headings and titles within the presentation slides look great over the bright, eye-catching and inspiring imagery chosen.
The Sales Presentation Sample template is also great at highlighting the power of choosing great imagery from the Presbee Image Bank.
The Food Guys Presentation
The Food Guys presentation in the Gallery is a little different as this presentation gives you an idea of how the template could be used if you were looking for investment in the specific sector of food and hospitality.
What we love about this template is the use of colour – each slide is vibrant, bright and colour co-ordinated. You can find out more about using colour in your presentation here.
The template also uses a great mix of full-slide images and half page images as well as extra inserted images that build up a slide that is visually stunning. As the saying goes, we eat with our eyes first, and also, just to exploit the old clichés, a picture is worth a thousand words. Obviously, in the context of food and hospitality this works perfectly and the text that is on the slides is concise and informative.
However, you could easily take this template and use it for other business sectors, or even when giving information about yourself and your business. Images are interesting and stimulating and they work brilliantly in this template.
Intro to Presbee
Not only is this presentation in the gallery a great way to learn about all of the different features Presbee offers, it also is a fantastic example of how pre-recorded audio and automatic transitions between slides can make an engaging an informative presentation when viewed remotely.
If you were sharing your presentation with a remote audience, or you wanted to allow your audience to view your presentation again at a later time, you could pre-record audio which is used to great effect in this example in the gallery.
UK Small Business Insurance
This template features much more text-per-slide and also a lot more information in the form of graphs and charts than the other presentation design templates we have featured from the Gallery.
We want to highlight this particular presentation to you as it is very different to the other image-focused presentation designs, but it is still not overwhelmingly text-dense nor is it boring or simple.
It features a sophisticated design, and the text is placed and formatted in such a way that it still looks engaging and interesting.
Of course, these are only templates, and more than anything, they highlight the creative power you have at your fingertips when using Presbee. All of these templates are different and are for different purposes and you can easily adopt one of these templates and adapt it for your own purpose.
Which is your favourite template? Do you see yourself adopting any of the presentation design features?
You can find out more about the features of Presbee here, and also read more articles from the Learning Center here.
The Best Presbee Gallery Presentations for You to Check Out