---
Social media has become a vital factor in many businesses over the years. With a selection of platforms to choose from and all free to use they are a great way to reach your target audience and get your message out there. But are you using them to their full potential? Are you hitting the numbers you need in order for your business to be 'seen'? It can be very confusing when each platform has a different algorithm, each post has a different 'lifespan' and when certain sites are hiding content in order to persuade you to pay for advertised posts. But as half the internet users have on average five social media accounts you would be missing a big trick if you weren't utilising these.
Here are our top tips to increasing your social reach:
Create Content Your Audience Want to See
This will take time to establish but by posting different content you will soon begin to see a pattern of what gets you a reaction. The faster people react the more the platform will like your post and the more people will see it. You can opt to pay for a few to be sponsored ads to gain a perspective of what interests others and you may also gain more followers this way too.
Once you have gauged what is popular and what isn't you can begin to create content that will continue to draw your audience in.
Share Others' Relatable Content
It can be boring to a reader to only see what you have been up to, what your business offers and so on. You can show that you are an expert in your field by sharing relevant content from others. This may well be from an associate of yours or possibly some vital information from a similar/same business. Your audience come to you for up to date and valuable content and they will appreciate anything that is relevant to them.
Tailor the Content for Each Site
This may sound time-consuming but each site works in a different way and what may be popular on one may not be for another. For example, Linkedin is a very business based site and this is where you can go all out on your business knowledge, share your expertise and connect with like-minded people. Twitter is faster paced and most tweets only have a lifespan of 18 minutes. Due to this, you can re-post the same content throughout the day without being spammy, plus this is a great site to schedule posts to which will save you time. Facebook is a platform that can be a little more tricky. You need to check your insights for information on who is following your page and when they interact. You are lucky that you don't have a character limit for your status but you still want to keep your content relevant and to the point. If you have a good following you can easily post up to 4 times a day and vary your posts… do not share the same blog post 4 times over, this will lose you likes very quickly. Also, ask questions here to try and encourage engagement from your audience.
Interact With Your Audience
When someone leaves you a comment, show that you are a real person and respond to them. If you can't think of a comment at least give it a like to show that there is somebody reading. You want to prove to your audience/customer/client that you are approachable and reliable.
Create Interesting Videos
Videos are becoming more and more popular mainly because your audience love to see who is behind that screen and get to know your personality. Ideas for video content could include a tour of your business, how-tos, products being created and general chats from yourself. Facebook lives are a great way to draw in extra views as your followers will receive a notification as soon as you go live. You could use these to do live Q and A's. If you have a YouTube channel you can easily share this content across to your other sites.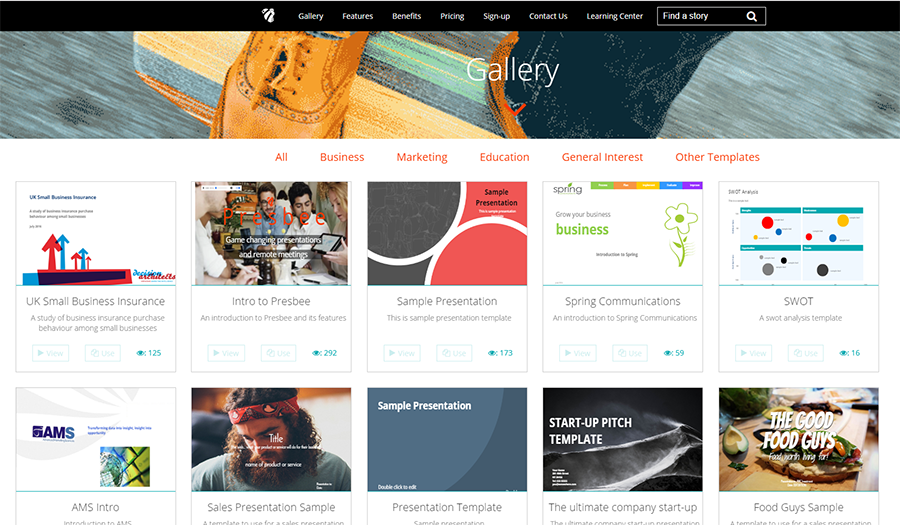 Create Online Presentations
Online presentations may seem like something you would only do if you were to pitch to a client, deliver a speech or are creating promotional material but in actual fact, they can be used for so much more. A presentation is an interactive visual aid that can showcase what your company does, what your business can offer and show that you are an expert in your field. These can be easily created on Presbee who have a wide selection of ready-made templates for you to use. Each template can be tailored by altering the size, adding animation, including music, using transitions, streaming video content and so much more. These can then be shared across your social media platforms as well as being uploaded to the Presbee site to be seen publicly. I would view this as another platform that should be used to benefit your business. You are also provided with statistics on how your presentation has performed which allows you to fathom out which content is worth sharing over and which you may not want to use again.
The most important point we can give you is to not get too hung up on your numbers but to enjoy what you are doing and knowing that you are delivering the best content you can. If you enjoy your work this will shine through on your posts and your audience will be able to relate to you and your success will eventually come.
Do you have any pointers to add to ours?
How To Increase Your Social Media Reach